Action Area × Recommendations
Recommendation: Accelerate the production of diverse housing types throughout the region, particularly deed-restricted Affordable Housing, with a focus on transit-oriented, climate resilient and other smart growth locations
Action Area: Homes for All
Action Area: Homes for All
Expand Housing Choice to empower localities to zone for housing diversity
Strengthen state funding programs to promote housing production of all types and Affordable Housing in particular
Dedicate resources to better equip the private market to build diverse housing
Download PDF Version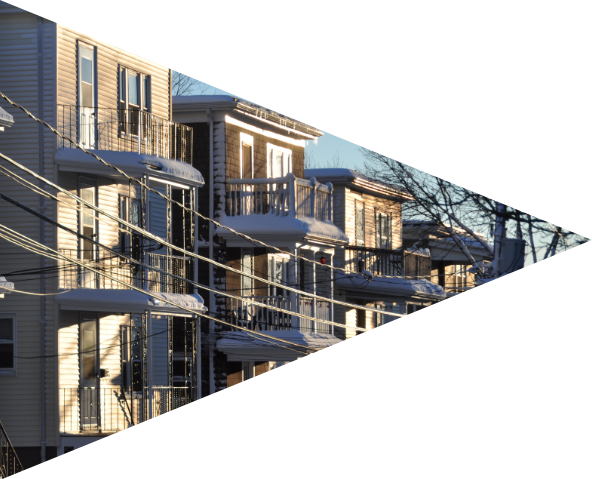 Strategy 1: Expand Housing Choice to empower localities to zone for housing diversity
Greater Boston is home to a great diversity of people and households. Households may be large or small, comprise family members or unrelated people, and include seniors, young children, or both. The region's households also have many different needs: proximity to public transit; a stair-free, accessible unit; multiple bedrooms to accommodate an elderly family member or an expected child; or a price that fits a certain budget. However, diversity of housing form and pricing are limited in the Commonwealth for several reasons, including high development costs and restrictive local zoning.
The Commonwealth's 2021 Housing Choice legislation1 represents a meaningful first step in addressing the severe housing shortage by lowering the super majority voting approval threshold for select residential zoning and permitting, thereby facilitating housing production (see Action 1.4 below). Furthermore, through its focus on multifamily development and compact development in smart growth locations, the legislation will result in a greater diversity of housing types available in many localities. In the coming years, the state should continue to facilitate more inclusive and diverse local housing production, specifically by encouraging affordable units and units that meet a variety of physical and household needs.
Strategy 2: Strengthen state funding programs to promote housing production of all types and Affordable Housing in particular
The Commonwealth has multiple funding sources to encourage housing production. Given the limited nature of these and all Affordable Housing funds, it is critical they be utilized to maximum effect. Toward that end, there are changes to existing funding tools that can be made and new funding streams that will maximize the results of local efforts to expand the housing supply.
Strategy 3: Dedicate resources to better equip the private market to build diverse housing
It is the responsibility of local and state government to ensure that favorable regulatory conditions exist to build more diverse and affordable housing, but it is typically the private market that ultimately develops this housing in the United States today. This means that, in an expensive region like Greater Boston, where the cost of building and operating deed-restricted Affordable Housing and naturally occurring affordable housing almost always exceeds revenue generated from those units, the Commonwealth must ensure private and nonprofit developers have the subsidy needed to produce housing at a range of price points.