Action Area × Recommendations
Recommendation: Ensure that people of all races and income levels have equal access to affordable housing through homeownership and rental opportunities in every community
Action Area: Homes for All
Action Area: Homes for All
Expand rental and homeownership opportunities by enforcing anti-discrimination protections and affirmatively furthering fair housing
Preserve affordability of the existing housing stock to help stabilize neighborhoods experiencing rapid change and to maintain housing opportunities at various cost levels
Help low-income households and members of marginalized groups achieve stable housing and homeownership through targeted assistance
Download PDF Version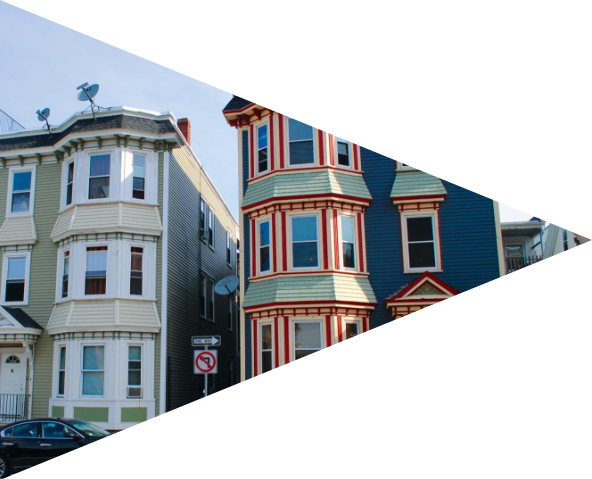 Strategy 1: Expand rental and homeownership opportunities by enforcing anti-discrimination protections and affirmatively furthering fair housing
 Forty years after the passage of the 1968 Fair Housing Act, discriminatory housing and lending practices continue to shape access to opportunity for historically marginalized communities. The Act was intended to guarantee housing choice free from discrimination. Yet, many Greater Boston residents struggle to find safe, affordable homes in neighborhoods close to jobs, transportation, and good schools. In addition, difficulty accessing homes in neighborhoods with good air quality has contributed to a public health crisis that is disproportionally impacting people of color in communities with higher exposure to toxic air and overcrowding. Across the region, exclusionary zoning and permitting practices effectively prohibit housing for families with children, which also has the effect of excluding individuals based on race and class. These exclusionary practices include direct and indirect restrictions on the development of multi-family and smaller homes and restrictions on the number of bedrooms and age of occupants. In 2018, the National Fair Housing Alliance recorded the highest number of complaints of fair housing violations since record keeping began.1 Enforcement of existing anti-discrimination protections would provide accountability in cases of unequal treatment of protected groups, but it will take new policies and proactive measures by governments at every level to undo decades of structural and institutional barriers that continue to perpetuate segregation.  
Strategy 2: Preserve affordability of the existing housing stock to help stabilize neighborhoods experiencing rapid change and to maintain housing opportunities at various cost levels
Creating new, diverse housing options across communities is important to meet housing demand and ensure residents can find housing that meets their needs throughout their lifetimes. Yet, redevelopment pressures or expiring Affordable Housing deed restrictions pose a threat to existing lower-cost housing options. Since 2015, the Department of Housing and Community Development (DHCD) and its partners have preserved the long-term affordability of more than 15,000 units at risk of expiring affordability.4 The state invests significantly in preservation and its housing preservation law, Chapter 40T, is a nationally recognized best practice. The state and local communities should sustain these efforts, which are mainly directed at large multifamily deed-restricted Affordable Housing developments. However, most low- and moderate-income households live in unsubsidized housing units with affordability typically dependent on a softer market and/or the age or condition of homes. In rapidly gentrifying neighborhoods, these "naturally occurring affordable housing" (NOAH) units are the most vulnerable to speculative investment. Preservation of NOAH properties has gained significant interest in the last couple years, with innovative approaches emerging locally and across the country. Massachusetts and its municipalities should learn from these experiences and implement programs to preserve NOAH.
Strategy 3: Help low-income households and members of marginalized groups achieve stable housing and homeownership through targeted assistance
The cost of housing is the single greatest barrier to stable tenancies and the expansion of homeownership. This has been exacerbated by decades of discriminatory policies that have resulted in unequal ownership rates and access to areas of opportunity. Beyond supply side interventions to promote the creation and preservation of affordable housing, rental and homebuyer assistance can help households close the gap between their income and a home that supports their family's wellbeing. Nationally, fewer than one in four households eligible for federally funded rental assistance receives it even though there is strong evidence demonstrating that rental assistance helps prevent homelessness and promotes greater housing stability. Stable housing provides people with the opportunity to focus on their health, education, financial mobility, and even homeownership. Homeownership is associated with greater housing stability later in life and remains the primary vehicle for wealth creation. Yet, communities of color remain largely excluded from homeownership. In Boston, Black and Latinx households are almost three times more likely to be denied for a mortgage loan than white households.7 Decades of discriminatory housing practices also mean that homebuyers of color are less likely to be able to tap the "bank of mom and dad" to make a down-payment on a home, to pay for college, or to make other critical investments in their future. More robust and targeted investment in first-time homebuyers can help counteract this glaring disparity.