Action Area × Recommendations
Recommendation: Enable wealth creation and intergenerational wealth transfer
Action Area: Equity of Wealth and Health
Action Area: Equity of Wealth and Health
Enable more people to build and maintain wealth
Expand the social safety net to lift families out of poverty
Amend the Massachusetts Tax Code to be more progressive
Download PDF Version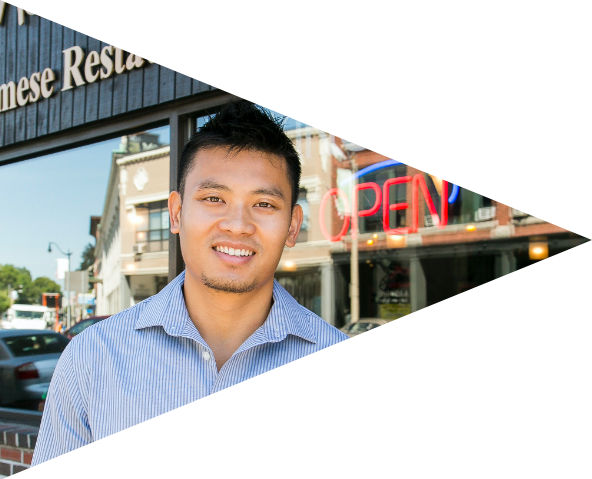 Strategy 1: Enable more people to build and maintain wealth
Nationwide, economic mobility has been on the decline for decades. While this trend is evident across the several ways in which people build wealth, including savings, real estate, and investments, it is particularly true with respect to earnings. The proportion of Americans making more than their parents dropped from 92 percent for individuals born in 1940 to 50 percent for individuals born in 1984.1 There are a multitude of factors that have influenced these outcomes, including skyrocketing housing and higher education costs, consolidation of corporate power, wage stagnation, and disintegration of the social safety net. Systemic racism has catalyzed and exacerbated these trends.
In the Commonwealth, the ability to secure a well-paying job, build adequate savings, and gain access to a range of economic opportunity continues to vary sharply across racial lines. While 70 percent of White households in Massachusetts own a home, just over a third of households of color are homeowners. Non-white households are more likely to have student loan and medical debt. And there is the oft-cited disparity of median net worth being close to a quarter million for white households in Metro Boston, but just $8 for non-immigrant Black households in the region.2, 3 In addition to burdens at the individual and community levels, disparities in racial wealth hurt the economy of the Commonwealth as a whole. The Massachusetts Taxpayers Foundation estimates that if Massachusetts were to close racial divides in wages, housing, investments, and wealth, the Massachusetts gross state product could increase $25 billion over five years.4 By limiting the ability to build wealth today, we are setting up future generations for continued inequities in the absence of significant reform.
In addition to the actions described below around increasing wages and access to benefits, expanding the availability of high-quality jobs is also critical to addressing racial disparities in wealth generation and quality of life. Since low-income individuals are disproportionately employed by small businesses,5 strengthening the resiliency of small businesses and promoting their integration to the broader regional economic development landscape will benefits their employees as well. (See "Expand and promote the resiliency of small businesses, particularly those owned by people of color, and encourage large employers to invest in local economies and advance equity" for specific recommendations.) Additionally, more flexible schedules and more predictable work hours would not only help more people retain employment while balancing additional responsibilities, but also improve overall quality of life. (See "Improve quality of life and reverse the rising rate of chronic diseases, particularly among populations experiencing health inequities" for more details on how to offer more workers this kind of stability.)
Strategy 2: Expand the social safety net to lift families out of poverty
The foundation of the modern American social safety net began during the New Deal era and took off post-World War II. The Great Society era was marked by a multitude of programs designed to reduce poverty, expand access to jobs and educational opportunities, and grow the economy. Today, programs such as Head Start, SNAP (i.e. food stamps), the Community Action Program, and many others remain central features of the support system in place for low-income individuals and families. However, deregulation and growing stigma toward "the welfare state" has led to a weakening of many of these programs. While the Commonwealth has stepped in to strengthen and complement existing federal safety net programs in some instances, there is opportunity to continue these strategic investments. Federal recovery dollars have given us an opportunity to make meaningful investments in our social safety net programs in the Commonwealth. The pandemic has illuminated how quickly individuals and families can find themselves in need of healthcare, housing, and food assistance. Strengthening and expanding programs that provide for these basic needs can help build a more resilient Commonwealth. Social safety net programs can boost economic mobility and begin to address some of the adverse health outcomes associated with prolonged periods of poverty. These measures are particularly critical for immigrants, individuals whose primary language is not English, and indigenous communities, who continue to face undue barriers to accessing these resources and services.
Strategy 3: Amend the Massachusetts Tax Code to be more progressive
The Institute on Taxation and Economic Policy ranks Massachusetts as the 20th most equitable tax system of any state in the country.19 While not the worst on the list, there is room to improve the state tax code to make it more progressive and lessen the tax burden on low-income individuals. By having the highest earning households and corporations pay taxes at a rate that is proportional to their wealth, the Commonwealth can generate much needed revenue to expand housing opportunity, invest in a world-class transportation system, strengthen public schools and improve educational outcomes, ensure equitable access to health care, and much more. The federal COVID relief and recovery dollars have provided an unprecedented opportunity to address some vulnerabilities made most deeply evident during this time, including expanding rental assistance and addressing food insecurity. Considering the scope of need, however, these federal dollars are just a short-term fix. A more progressive tax code would mean more revenue to make permanent some changes that helped residents hit hardest by the pandemic gain access to economic opportunity and provide for their families.