Action Area × Recommendations
Recommendation: Make government more participatory and inclusive
Action Area: Dynamic and Representative Government
Action Area: Dynamic and Representative Government
Expand pathways for engagement to improve accessibility of local governments
Enhance resident influence and representation in local decision-making
Grow local efforts to promote diversity, equity inclusion within the municipal workforce and across government boards and committees
Download PDF Version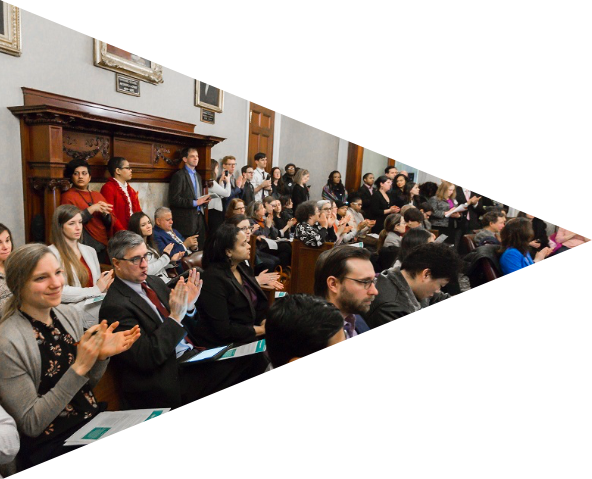 Strategy 1: Expand pathways for engagement to improve accessibility of local governments
Local, state, and federal government should be accessible to people in the community in order to ensure that it includes all residents. Residents should easily be able to find out what services are available to them, when public meetings are taking place and how to participate, and how they can best weigh in on local decision-making. Too often, local governments hear from the same few residents that have the time and knowledge to participate in meetings, call their elected officials, and write letters expressing their views. Expanding opportunities for virtual participation will be one critical avenue for promoting access to local governments. The COVID pandemic gave us an opportunity to see how innovative virtual participation can work in real time, but it also laid bare the need to invest in broadband and digital infrastructure. We should maintain the increased level of accessibility through virtual platforms so that more residents are able to participate and stay informed about local decision-making.
Strategy 2: Enhance resident influence and representation in local decision-making
In most forms of local government, decision making is at the hands of a small number of individuals who serve on the executive and legislative branches. In many cases, local decision makers have been in power for a long time, and board and commission members are not representative of the residents who are the most likely to be impacted by their decisions. Opportunities to serve on boards, commissions, and other decision making bodies are not always well publicized and might ultimately be limited to residents who know how to navigate the system. In addition to the actions in Strategy 1, investing in local civic infrastructure and elevating the role of community-based organizations can enable more residents to participate in local planning and decision making processes. Additionally, municipalities have the opportunity to make these engagement processes more meaningful by giving community-driven planning efforts, particularly master plans, more influence on local policy and zoning decisions. A more participatory and inclusive government would give its residents greater say on how their government functions, what it spends its money on, and what programs and policies are needed to best serve its residents.
Strategy 3: Grow local efforts to promote diversity, equity inclusion within the municipal workforce and across government boards and committees
MAPC has done extensive research into the diversity of our municipal workforce. Our research showed that city and town employees are, as a whole, both older and Whiter than the region's general labor force, as well as its population.19 This disparity can influence residents' knowledge of and interest in participating in local planning and decision-making processes. Staff who carry out the day-to-day functions of local government have influence on how receptive a government is to the needs of its people. A workforce that more closely resembles the demographic makeup of the community can support more effective and culturally competent community engagement initiatives and allow more residents to feel their perspectives will be heard by their local government. A diverse municipal workforce that reflects local demographics is not only important for representation in decision-making, but also expands professional pathways for individuals who otherwise may not feel inclined to explore a career in municipal government. As such, the actions below must work in concert with the recommendations for a more creative, adaptive, and diverse municipal workforce included in Strategy 1 in "Improve local government capacity and service delivery".