Action Area × Recommendations
Recommendation: Reduce vehicle miles traveled and the need for single-occupant vehicle travel through increased development in transit-oriented areas and walkable centers
Action Area: Inclusive Growth and Mobility
Action Area: Inclusive Growth and Mobility
Facilitate transit-oriented and other smart growth development through incentives and requirements
Ensure site design, land use program, and development characteristics prioritize walkability and affordability
 Require new developments to focus their transportation mitigation on producing fewer single-occupant vehicle (SOV) trips
Download PDF Version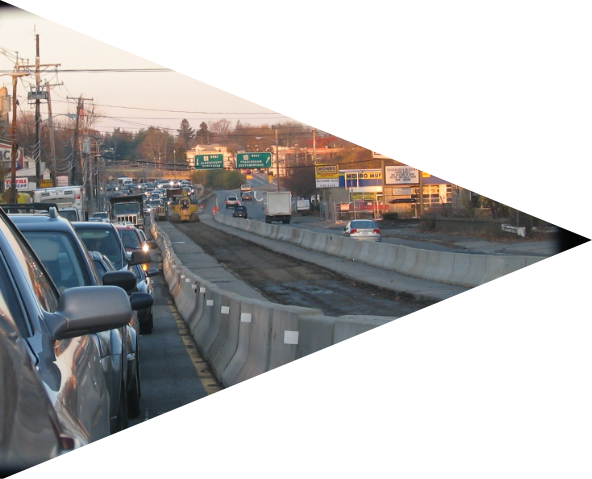 Strategy 1: Facilitate transit-oriented and other smart growth development through incentives and requirements
All municipalities have a role to play in growing in an equitable and environmentally sustainable manner. Concentrating growth around transit stations, downtowns, high frequency bus corridors, and other smart growth areas is a critically important way to grow sustainably. Neighborhoods with housing, jobs, and shopping within walking distance to transit can reduce sprawling development and reliance on driving. These efforts should be coupled with state and local policies that prevent displacement and mitigate the rapid increase in housing costs that can come with transit-oriented development (TOD). Many communities have embraced smart growth development in context-sensitive ways. Much more can be done, however, when local, state, and regional actors take a proactive role in fostering this development.
Strategy 2: Ensure site design, land use program, and development characteristics prioritize walkability and affordability
In addition to facilitating increased smart growth, development must occur in ways that best meet the needs of communities and the region. Too often, transit-oriented developments in our region are designed as "islands" cut off from the rest of the community, catering only to a wealthier demographic and resulting in banal development. The following policy actions can help ensure that developments prioritize multimodal travel, ensure that those most reliant on transit have access, and contribute to a neighborhood's sense of place.
Strategy 3: Require new developments to focus their transportation mitigation on producing fewer single-occupant vehicle (SOV) trips
Development projects, especially larger ones, often require the developer to mitigate the negative impacts, with these efforts are often focused on alleviating the development's impacts related to increased transportation demand. Traditionally, transportation mitigation focused on impacts associated with increased vehicular traffic and attempts to accommodate these increases, often through roadway widening efforts. In addition, traffic modeling and projections often overstate vehicular impacts on surrounding communities. A better approach to reducing congestion spurred by new development is to focus on reducing SOV trips through the utilization of improved data, combined with stronger transportation demand management techniques and the implementation of Complete Streets strategies.