Action Area × Recommendations
Recommendation: Decarbonize the building and transportation sectors
Action Area: Climate Mitigation & Resiliency
Action Area: Climate Mitigation & Resiliency
Accelerate retrofits of existing buildings to achieve deep energy efficiency and eliminate fossil fuels
Ensure that new buildings and major renovations are constructed to meet ultra-low energy, high-performance standards and support greater adoption of distributed renewable energy resources and energy resiliency
Dramatically increase the share of personal vehicles and municipal and state fleet vehicles that are all electric or low carbon
Accelerate a commitment to expand and electrify public transportation
Download PDF Version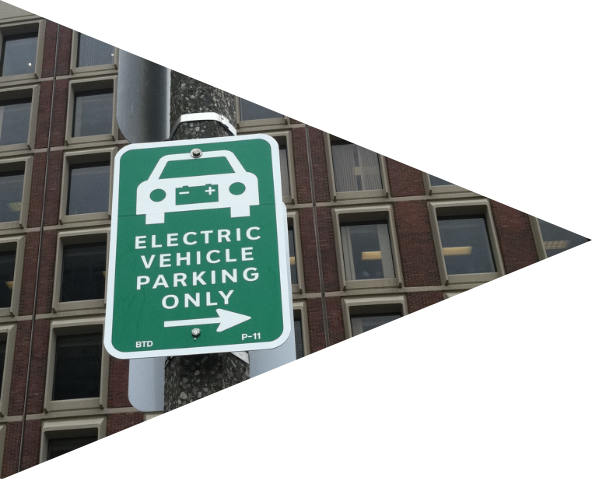 Strategy 1: Accelerate retrofits of existing buildings to achieve deep energy efficiency and eliminate fossil fuels
The Commonwealth has over 2.5 million buildings, which are responsible for the largest portion of greenhouse gas (GHG) emissions of any sector when accounting for both thermal energy (heating and cooling) and electricity. For many municipalities in the region, the buildings sector – whether primarily residential or commercial – likewise comprises the greatest level of emissions, above 80 percent for some urban municipalities.
While existing buildings represent a tangible opportunity to tackle the climate crisis, they have also proven very challenging to decarbonize. Many building envelopes, enclosures, mechanicals, lighting, and other components were designed and implemented much less efficiently and cleanly than they could have been, and buildings ae typically reliant on fossil fuels. Not only is renovating or replacing these components often very costly and time-consuming, but it could also displace or disrupt existing occupants. However, policy actions that prioritize retrofitting existing buildings to greatly enhance energy efficiency and replace fossil fuels with renewable energy will serve to significantly reduce the carbon footprint of our building stock. There is also the opportunity to align deep energy retrofits with ventilation and other air filtration upgrades needed to achieve healthy homes, an area of increased concern in light of the COVID-19 pandemic (see Action 2.2 in "Ensure that people of all races and income levels have equal access to affordable housing through homeownership and rental opportunities"). Further, pursuing complementary nature-based solutions, such as green roofs and tree planting, can maximize carbon capture opportunities and decrease heating and cooling loads, further reducing the carbon intensity of our buildings (see "Ensure land preservation, conservation, and access to recreational spaces"). High performance buildings free from fossil fuels also generate myriad public health, safety, wellness, and resilience benefits and result in operational cost savings.
Strategy 2: Ensure that new buildings and major renovations are constructed to meet ultra-low energy, high-performance standards and support greater adoption of distributed renewable energy resources and energy resiliency
When it comes to building decarbonization, new buildings allow developers to start from scratch and deploy the energy-saving, low-carbon, high-performance technologies, materials, equipment, and systems from the design phase. The policy landscape currently in place, however, does not prioritize comprehensive and strategic planning, design, engineering, construction, operation, and financing of net-zero compliant buildings. Both public and private institutions have made some progress in encouraging this development, including via market-based certification standards such as Passive House and funding from utilities, MassCEC, the Department of Housing and Community Development, and other bodies to support pilots, charrettes, low-income housing tax credit points, and trainings. Yet, most buildings are still constructed or renovated using standard practices that do little more than meet the State Building Code or respond to perceived market demand.
To achieve the climate goals of our region and beyond, baseline requirements and incentives for better buildings will need to be enhanced significantly. The Next Generation Roadmap bill passed and signed into law in March 2021 makes notable improvements in this area by authorizing DOER to establish by November 2022 a municipal opt-in high performance stretch code that includes a net zero building performance standard, but there is still more work to be done. By raising the floor for climate-smart development, we can succeed in transforming market demand and bolstering the related supply chain. We can also generate benefits not only to reduce GHG emissions, but also to make buildings more resilient to storms, extreme temperatures, and grid outages; more conducive to sheltering in place; inclusive of strong daylighting features proven to benefit students' learning and public health at large; and better ventilated, more comfortable, and less expensive to operate due to down-sized equipment and reduced energy costs. By 2028, the policies should be applied across all building types so that only 2050-compliant buildings are constructed in Massachusetts.
Strategy 3: Dramatically increase the share of personal vehicles and municipal and state fleet vehicles that are all electric or low carbon
The transportation sector accounts for slightly over 40 percent of all GHG emissions in Massachusetts, and nearly half of these emissions are from passenger vehicles. While it is important that vehicles increasingly become more fuel efficient, we must undergo a widespread transition to electric vehicles to decarbonize the transportation sector. Adoption of electric vehicles (EVs) in Massachusetts is slow—in 2018, only 2.53 percent of new light vehicles sold in the Commonwealth were electric.6 However, due to declining costs of EVs, improved battery range, and expanded model availability, projections are forecasting that EV sales will increase. If we are to comply with the GWSA mandates, there must be significant movement toward electrification among personal vehicles, state and municipal fleet vehicles, and private fleets.
Strategy 4: Accelerate a commitment to expand and electrify public transportation
Making it easier for more people to use our most efficient mode of transportation, public transit, is a fundamental component of our efforts to decarbonize transportation. While the social, public health, and environmental benefits of making biking and walking the most convenient and enjoyable mobility option cannot be overstated, a well-designed and reliable public transit network is also a necessary component of a low-carbon public transportation system, particularly for longer distances. Along with lowering air pollution and improving public health outcomes in Environmental Justice communities, electrified public transit also has the potential to provide significant economic benefits due to reduced maintenance and fuel costs, especially in high-mileage use cases.
Across the country, cities are advancing fleet electrification commitments and initiatives. In California20, all transit agencies will be required to procure fully electric buses starting in 2029. New York City21, Los Angeles22, Chicago23, and Seattle24 all have commitments to convert their fleets entirely to fully electric. The MBTA's Focus40 Plan has broadly pledged to undertake a "phased conversion to zero-emissions fleet and facilities" once successful electric bus pilot programs are complete and a capital plan for the maintenance facilities has been developed. The MBTA must strengthen and accelerate this pledge.25
While vehicle electrification is an essential component of any transportation decarbonization scheme, the Commonwealth must also invest a robust, reliable, and affordable public transit network and accelerate the production of affordable housing and mixed-used development near transit. Compact growth near high quality transit and enabling people to live with no or fewer vehicles offers many co-benefits, including improving economic mobility, reducing commute times, improving public health outcomes by reducing air pollution and traffic fatalities, and conserving open space necessary for carbon sequestration. Ways to accelerate this mode shift are explored more deeply in "Improve accessibility and regional connectivity" and "Reduce vehicle miles traveled and the need for single-occupant vehicle travel through increased development in transit-oriented areas and walkable centers."