Action Area × Recommendations
Recommendation: Improve accessibility and regional connectivity
Action Area: Inclusive Growth and Mobility
Action Area: Inclusive Growth and Mobility
Improve the reliability and affordability of the region's public transit service to promote access to opportunity
Reimagine roadway corridors that connect into downtown Boston to encourage higher-occupancy modes to discourage single-occupancy vehicle travel
Create safe, accessible, and well-connected network of safe cycling and walking infrastructure
Shape new and emerging mobility services to support local and regional transportation goals, including safety, reduced traffic congestion, lower GHG emissions, and equitable access for all people
Download PDF Version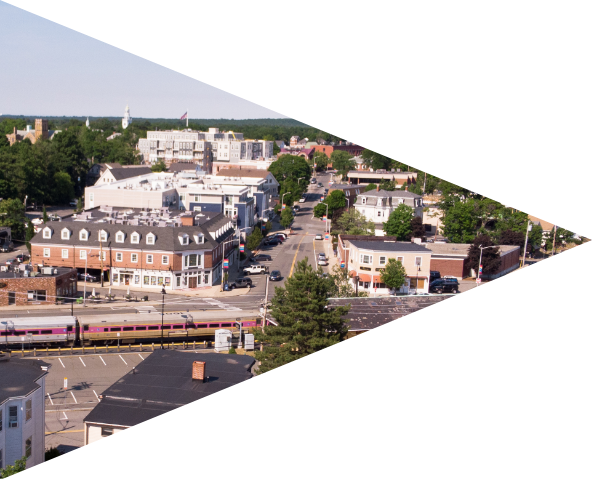 Strategy 1: Improve the reliability and affordability of the region's public transit service to promote access to opportunity
Public transit plays a critical role in bolstering the Commonwealth's economy, connecting workers and residents with jobs, schools, errands, and essential services. With over one million trips taken by train, bus, and ferry in Greater Boston every day, transit plays an even more crucial function in the MAPC region, where many households do not have access to a private vehicle and thus depend on a well-functioning, affordable, and accessible public transportation network. In addition to residents who are less likely to own or have access to a private vehicle, transit is especially important to persons with disabilities, lower-income households, members of immigrant communities, persons of color, older adults, and youth who cannot drive. Besides fostering improved access to opportunity, investments in a robust and reliable public transit system are critical for the Commonwealth to achieve its climate goals, given that approximately 40 percent of Massachusetts' greenhouse gas (GHG) emissions are from the transportation sector. Efforts to improve accessibility and regional connectivity directly complement work to enhance transit-oriented development and reduce single occupancy vehicle travel (see "Reduce vehicle miles traveled and the need for single-occupant vehicle travel through increased development in transit-oriented areas and walkable centers.") and reduce transportation emissions (see "Decarbonize the building and transportation sectors.")
Strategy 2: Reimagine roadway corridors that connect into downtown Boston to encourage higher-occupancy modes to discourage single-occupancy vehicle travel
Massachusetts has long been home to some of the worst traffic congestion in the country. In 2019, INRIX ranked Boston as the most congested city in the country, with drivers spending 149 hours, or more than six days per year, stuck in traffic.8 MassDOT's "Congestion in the Commonwealth" report highlights the growing burdens of congestion on workers' quality of life.9 While traffic can be viewed as a sign of a healthy economy, congestion in Massachusetts has been occurring outside peak hours and had worsened to the point where it was hindering access to jobs. In addition to the economic consequences of traffic congestion, this exacerbates the impact our transportation system has on rising GHG emissions. Solving the Commonwealth's congestion woes will be a key tactic needed to reduce emissions from the transportation sector. As the Commonwealth began to reopen, traffic rebounded much more quickly than transit ridership. To achieve an equitable and resilient economic recovery, the Commonwealth must make investments in transit and pursue additional measures to ensure that the congestion crisis is left in the past.
Strategy 3: Create safe, accessible, and well-connected network of safe cycling and walking infrastructure
To decrease congestion and reduce GHG emissions from transportation, more people need to walk and bike. According to the 2014-2018 American Community Survey, only about 8 percent of the MAPC region's residents primarily walk or bike to work, though more bike or walk for a portion of their commute.12 Building out networks of walking and cycling infrastructure not only increases the utility of these investments by expanding the number of destinations available and routes to choose from, but also increases the appeal of walking and biking for exercise and recreation. These active transportation investments would not only create more mode choice, but also expand access to healthy mobility options, supporting residents' wellbeing and quality of life. Additionally, walking and biking are often the first or last mile of a transit trip. By treating walking and cycling infrastructure as part of the larger transportation system, municipalities and the Commonwealth can improve transit accessibility and further reduce reliance on personal vehicles.
Strategy 4: Shape new and emerging mobility services to support local and regional transportation goals, including safety, reduced traffic congestion, lower GHG emissions, and equitable access for all people
Over the past decade, there has been a surge of innovation in the transportation sector. From new personal micro-mobility vehicles to on-demand transit options, there are more ways to get around than ever before. At the same time, the COVID-19 pandemic has accelerated what was already rapid growth of the e-commerce industry. Nationwide, transactions from services such as DoorDash, Grubhub, Uber Eats, and Postmates increased approximately 200 percent between 2015 and 2020, generating an estimated $26 billion in revenue in 2020.14 Online grocery sales for home delivery and pickup reached $5.9 billion in November 2020, a threefold increase from August 2019.15
In response to rapid innovation in the transportation sector and the broader impact of transportation on the economy, land use, and the environment, Governor Baker established the Commission on the Future of Transportation, which considered several future transportation needs and challenges. Included in the Commission's analysis was guidance around creating a 21st-century mobility infrastructure to prepare for and capitalize on emerging changes in transportation technology and behavior. While this wave of innovation has created a tremendous opportunity to reimagine how to get around without depending on a personal vehicle, certain changes can actually add to traffic congestion and increase GHG emissions if not managed properly. The Commonwealth and cities and towns should prepare for a future that embraces new transportation technologies but plans for them in accordance with the goals of providing a safe, reliable, and affordable transportation system for all.