Action Area × Recommendations
Recommendation: Prepare for and respond to the threats of climate change
Action Area: Climate Mitigation & Resiliency
Action Area: Climate Mitigation & Resiliency
Direct resources and technical assistance to communities that have experienced historic disinvestment and commit to long-term climate and health planning
Prepare buildings, infrastructure, and the natural environment to withstand and be resilient to the impacts of climate change
Move out of harm's way
Download PDF Version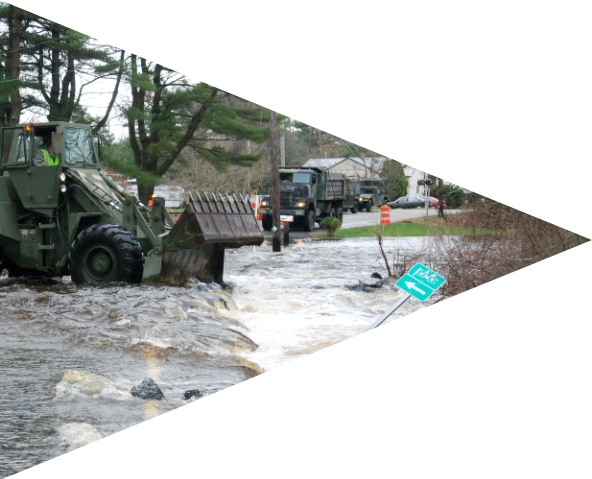 Strategy 1: Direct resources and technical assistance to communities that have experienced historic disinvestment and commit to long-term climate and health planning
The COVID-19 pandemic hit harder in communities of color and low-income neighborhoods, and numerous studies over the years have documented that these neighborhoods and populations also bear a disproportionate share of environmental harms such as flooding, air pollution, and exposure to toxic facilities. Similarly, negative impacts of climate change will not be borne equally across the region. The lasting effects of deliberate discrimination and disinvestment are illustrated by a recent study of over 100 communities, which found that neighborhoods historically subject to red-lining are, on average, five degrees hotter in the summer.1 The red-lined neighborhoods have fewer trees and parks, and more paving and industrial facilities. Climate change also exacerbates public health disparities in these communities, with extreme heat and the poor air quality and humidity that often accompanies it triggering asthma. Warmer temperatures will have disproportionate impact on Black people and Latinos who are already hospitalized for asthma at higher rates than Asians and Whites. Resources must be directed to improving public health outcomes and increasing assets available to communities that have been subject to institutionalized discrimination and disinvestment.
Strategy 2: Prepare buildings, infrastructure, and the natural environment to withstand and be resilient to the impacts of climate change
Supporting resilience in the built and natural environment will require several critical steps, including: 1) adapting existing buildings and infrastructure to withstand and recover from the impacts of climate change, 2) developing new buildings and infrastructure in ways that incorporate resilience standards and adaptative principles, and 3) developing additional infrastructure, including natural infrastructure, specifically to protect and adapt communities from climate hazards. Infrastructure includes the primary life-line sectors of transportation, telecommunications, energy, water, healthcare, and food systems, as well as "green" infrastructure and natural systems that provide critical ecosystem services such as flood storage and cooling. These large-scale investments will require significant increases in funding and financing. Some estimate that the need is at least $100 million annually (a ten-fold increase over current state funding of around $10 million annually through the Municipal Vulnerability Preparedness (MVP) program). A robust strategy that includes local, state and federal dollars must be developed and implemented in the near-term.
Strategy 3: Move out of harm's way
Over the next thirty years, sea level is projected to rise as much as 1.4 to 2.4 feet5 and coastal storms will become more frequent and severe. Communities will experience more chronic flooding as daily tides encroach and groundwater levels rise. Inland locations will also be affected due to the projected increase in extreme rain events. Increasingly residents will be priced out of their homes as flood insurance premiums rise and damage to property increases. As conditions worsen, pressure to relocate people and infrastructure will mount. Properties at risk will experience decreasing value, while the need to relocate will put pressure on housing availability and affordability elsewhere. Low-income residents will be particularly vulnerable to the impacts of disruption and dislocation. Critical natural resources including salt marshes, tidal flats, and beaches are at risk of being submerged where coastal development blocks pathways for upland migration as sea level rises. Now is the time to develop the regulatory tools and programs to address those locations where future relocation will be unavoidable. These actions will promote equitable transitions that protect people, natural resources, and communities.