Action Area × Recommendations
Recommendation: Expand and promote the resiliency of small businesses, particularly those owned by people of color, and encourage large employers to invest in local economies and advance equity
Action Area: Equity of Wealth and Health
Action Area: Equity of Wealth and Health
Strengthen and diversify the local supply chain to promote local and regional economic resiliency
Facilitate creative use of land to support emerging business sectors and respond to changing economic realities
Increase the percentage of local ownership and business ownership by people of color by increasing funding for business support and development and decreasing the cost of doing business
Download PDF Version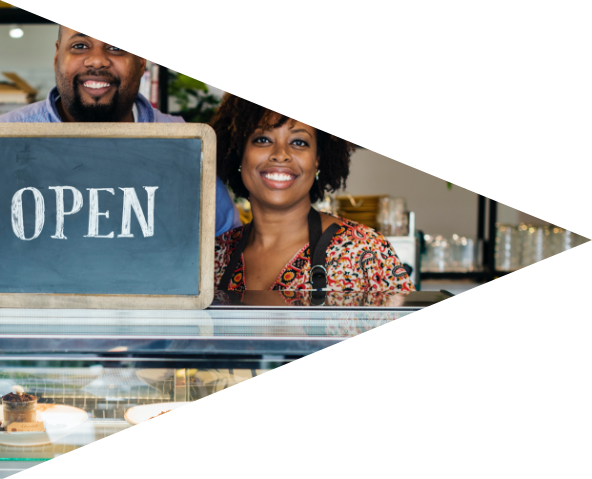 Strategy 1: Strengthen and diversify the local supply chain to promote local and regional economic resiliency
The economic disruption caused by the COVID-19 pandemic demonstrated the strengths and weaknesses of the regional economy. Although some areas of the economy faced fewer disruptions in the supply chain due to local sourcing, other elements of the economy were more vulnerable and severely affected. Growing the economy from within by leveraging the assets of the existing businesses, rather than making significant investments in attracting companies from outside of the region, is an important step toward local and regional economic resiliency. Incentivizing local sourcing creates the opportunity for local businesses to thrive and keeps more money within the local economy. Furthermore, building a more diverse local supply chain not only improves the ability for the economy to weather shocks, but also promotes operating efficiency, lowering transportation costs and associated greenhouse gas emissions.
Strategy 2: Facilitate creative use of land to support emerging business sectors and respond to changing economic realities
Downtowns, strip malls and commercial spaces are facing increased vacancy rates because of economic disruptions brought about by the COVID-19 pandemic. The pandemic has also bolstered the rise of online shopping and e-commerce activity, further hurting local storefronts that lack a digital presence. Without interventions to support more mixed-use development and flexible use of commercial space, sustained vacancies could stall a robust economic recovery. Cities and towns and the Commonwealth should take this opportunity to rethink the use of these spaces and allow for needed housing, open space, public amenities, shared commercial spaces, and creative space for emerging business sectors.
Strategy 3: Increase the percentage of local ownership and business ownership by people of color by increasing funding for business support and development and decreasing the cost of doing business
In addition to facilitating more local ownership, building a resilient local economy must include direct, targeted assistance to increase the share of local businesses owned by people of color, and to ensure the long-term viability of these businesses. Communities of color have been systematically excluded from opportunities to build wealth in ways, including barriers to entrepreneurial opportunities. Small business assistance, whether in the form of support getting one's businesses online, assistance with financial management and tax preparation, or other support, must be targeted in a way to actively address these disparities. Furthermore, the economic consequences of the COVID-19 pandemic have disproportionately fallen on communities of color. To ensure a robust and equitable economic recovery and promote long-term economic resilience, municipalities and the Commonwealth must prioritize local businesses and businesses owned by people of color.