Action Area × Recommendations
Recommendation: Improve the accessibility and efficacy of the Commonwealth's workforce development infrastructure
Action Area: Equity of Wealth and Health
Action Area: Equity of Wealth and Health
Adequately invest in the workforce development system structure
Integrate capacity to address upstream barriers to skill building within the workforce system network
Integrate MassHire Workforce Board activities into economic development efforts
Continue to expand workforce development and career pathways within the K–12 system
Download PDF Version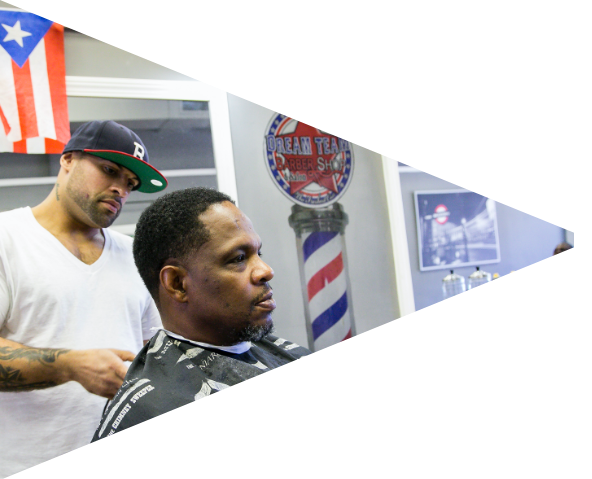 Strategy 1: Adequately invest in the workforce development system structure
The federal framework of the Workforce Innovation and Opportunity Act (WIOA) is the fourth iteration of federal workforce policy since 1963.1 WIOA funds make up the bulk of workforce development funding in the state of Massachusetts, but federal funding has been consistently decreasing since 2001, leaving workforce development infrastructure chronically underfunded. Massachusetts' allocation of WIOA dollars is distributed across the 16 MassHire Workforce Boards that serve the Commonwealth. Workforce development is also supported by the Wagner-Peyser Act of 1983, which established a nationwide system of public employment offices, known as the Employment Service.2 Employment Service offices seek to connect job seekers with employers looking to hire. The Act has been amended under WIOA to build upon other workforce development reforms, requiring colocation of Employment Service offices into Workforce Board offices and aligning performance measures with other federal workforce programs. There are ways the Commonwealth can modify its use of WIOA dollars and other federal workforce funding to ensure that these scarce resources are allocated to areas of greatest need.
Finally, it is important to note that for unemployment rate to be a useful indicator of workforce participation and worker satisfaction, there needs to be a deeper investigation of the source of the unemployment. Unemployment rates can be a result of a lack of available jobs in general, or a lack of available jobs that match the skillset of the workforce. Understanding these underlying conditions will not only help guide meaningful workforce investments, but also inform complementary efforts to increase the availability of high quality, well-paying jobs in the region. This recommendation focuses on investments in workforce development but, as the region emerges out of the COVID-19 pandemic, ensuring people are returning to high quality jobs with sufficient pay and benefits is essential. For more information on MAPC's research on the future of work and how we can build an equitable, economically prosperous region, please see this presentation on the future of work in Metro Boston and MAPC's priorities for an equitable and resilient economic recovery.
How Workforce Development is Funded
Congress appropriates WIOA funding annually, and then the US Department of Labor divides up funds between the states. There is a formula that the Department of Labor uses to allocate funds once appropriated by Congress, which is primarily based on unemployment rate and numbers of disadvantaged adults.3, 4 However, there are no criteria that Congress uses in determining the size of the appropriation in the first place.
Once the funding gets to the states, Massachusetts divides the total allocation between the various MassHire Workforce Board regions. Many states opt to utilize the Department of Labor's funding formula in allocating WIOA dollars to the Workforce Boards. This current funding allocation system has two major flaws:
Relying on the unemployment rate as the primary indicator used in funding allocations results in the state underfunding the system when times are "good" (low unemployment). This shortchanges the system at a time when those who are not in the labor market typically have more barriers to employment, therefore making it more costly to help move them into good jobs.
Since the formula lags (i.e., is based on the unemployment rate at the time of appropriation cannot be updated), states find themselves in situations such as the economic downturn during and following the COVID-19 pandemic. In this example, the system was funded as if the unemployment rate was still at its pre-pandemic level of under 3 percent, when it is was actually much higher. Relatedly, each state's allocation is based on unemployment relative to other states. In the case of national economic downturns, if the country is experiencing a rise in unemployment, Massachusetts will not necessarily see its share of WIOA dollars increase, despite increased need.
Massachusetts has 16 Workforce Board regions that vary widely in size, some serving over 40 communities, and some serving only five or six. The City of Boston has its own Workforce Board, the Boston Private Industry Council. All Workforce Board regions serve communities with varying amounts of resources, which, depending on the size of the region. may skew the regional unemployment rate down since high numbers of unemployed individuals are usually concentrated in specific communities. For example, in 2020, the unemployment rate for the Merrimack Valley Workforce Board as a region was 11percent, but the unemployment rate for one major city in the region, Lawrence, was 20 percent.
Strategy 2: Integrate capacity to address upstream barriers to skill building within the workforce system network
The delivery of workforce development services such as hard and soft skill training, interview and resume prep, or higher educational attainment are among the easier components of the workforce development system to address. Many of the upstream factors that prevent individuals from accessing training, skill building, or educational services in the first place are more critical to address to ensure successful program delivery. These barriers include transportation, digital access, housing stability, health/mental health support, language access, and childcare, to name a few. An equitable economic recovery will require a strong foundation in not only supporting education and skill building, but also addressing many of those upstream factors. To do so will require a holistic approach to integrating the workforce development community into conversations with stakeholders that focus on addressing these upstream factors. A more active approach to addressing these upstream barriers and integrating the necessary supports within workforce development activities is needed. Planning for this future will require policy makers to move beyond the limiting designation of economic development and toward a new perspective of economic resilience.
Strategy 3: Integrate MassHire Workforce Board activities into economic development efforts
As a home rule state, Massachusetts municipalities are granted substantial authority over local business development and regulation. Most economic development planning occurs at the municipal level, with activities varying between cities and towns based on available resources and community interest. The Executive Office of Housing and Economic Development is tasked with advancing the Commonwealth's priorities around economic development, which generally focus on overall competitiveness in key industries such as health care, life sciences, and technology. Similarly, MassDevelopment, the state's economic development authority, is primarily responsible for site- or business-specific development and technical assistance.
While the MassHire Workforce Boards are regional in scope, there are no entities specifically tasked with regional economic development. The lack of a regional network of economic development entities that mirrors the Workforce Board system undermines workforce development efforts in several ways. Workforce Investment Boards are stretched thinner, spending time on private sector engagement in addition to their primary function of serving unemployed and underemployed individuals. This limits the efficacy and reach of the MassHire system and makes it more difficult to build connections between the workforce community and municipalities where MassHire does not have a direct presence. New regional economic development entities would also complement local economic development planning efforts, which is particularly critical for municipalities with limited staff capacity. Investing in regional economic development strategies can fill a gap in our economic development efforts, while building a stronger connection between the economic development and workforce development community.
Strategy 4: Continue to expand workforce development and career pathways within the K–12 system
Massachusetts has long struggled with producing enough local talent to fill many of the jobs being created by the state's strong technology, healthcare, and industrial industries. Many of these jobs require specialized training or an advanced degree. While the number of these jobs has steadily increased over the last decade, the number of state residents graduating from four-year programs has increased only marginally and completely stagnated in certain demographic groups.
At the same time, Massachusetts vocational schools have seen a strong increase in demand due to the successes of these programs in preparing students for employment in many of the Commonwealth's well-paying sectors. Many vocational schools are regional and some serve a particularly large geographic area, further straining supply and enabling some vocational technical schools to only offer seats to the highest performing students. This, in turn, closes off opportunities to vocational programs for many students who may otherwise be unable to access these types of training opportunities. It is critical the Commonwealth expand the pipeline of students to college and vocational programs to meet demand in these growing industries.